Is limited mobility causing difficulties for you or someone close to you? Lightweight mobility scooters can be the answer – expect to achieve greater independence and ease of movement. However, knowing where to start with many available options can take time and effort.
In this blog, we will examine the advantages of lightweight mobility scooters, the factors to consider when purchasing, the various types available, and the top models currently on the market in this guide.
Understanding Lightweight Mobility Scooters
People with limited mobility can achieve greater independence and mobility by using lightweight mobility scooters and personal mobility devices.
In addition, it is easier to maneuver, transport, and store these scooters because they typically weigh less than heavy-duty scooters.
Their compact size is one of the primary characteristics of lightweight mobility scooters. Ideal for indoor and outdoor use, they are designed to be lightweight and easy to transport. Moreover, they frequently have a reduced turning radius, facilitating their navigation in narrow areas.
Lightweight mobility scooters may have a lower weight capacity and shorter battery life than heavy-duty scooters. They are, however, frequently more economical and simpler to upkeep.
Types of Lightweight Mobility Scooters
When it comes to choosing the right type of lightweight scooter, there are several options available.
Three-Wheeled Scooters: These mobility scooters are ideal for indoor use due to their tighter turning radius.
Four-Wheeled Scooters: These mobility scooters are better suited for outdoor use due to their increased stability.
Folding Scooters: You can fold these scooters and store them in a car trunk or overhead compartment on an airplane.
Travel Scooters: These are lightweight and compact scooters that can be disassembled easily for storage and transportation.
Benefits of Lightweight but Heavy Duty Scooters
A lightweight scooter can provide many benefits if you or a loved one has limited mobility.
Here are some of the critical advantages of using a mobility scooter:
Increased Mobility and Independence
You can move around freely without relying on a cane, walker, or wheelchair by using a mobility lightweight scooter. In addition, with a lightweight scooter, you can explore new places more easily, travel longer distances, and easily navigate crowds.
Greater Ease of Use and Transportation
Maneuvering them typically requires minimal physical effort due to their simple controls. Individuals living in apartments or with limited storage space may find lightweight scooters ideal due to their ease of transport and storage.
Reduced Physical Strain
Individuals with limited mobility may experience physical strain on their bodies when they walk or use a traditional wheelchair. Using a scooter can help prevent injuries related to overexertion and reduce physical strain.
Customizable Comfort
Lightweight mobility scooters are often designed with customizable features to ensure maximum comfort. Different body types and preferences can be accommodated by adjusting features like seats, armrests, and footrests.
Affordable Alternative
Heavy-duty scooters or power wheelchairs are typically more expensive than lightweight mobility scooters. However, individuals who may not have the financial means to purchase more expensive mobility devices can consider them a great alternative.
Factors to Consider When Buying a Brand-New Lightweight Mobility Scooter or a Used Mobility Scooter
To select the best option for your needs, it's important to consider several factors when choosing a mobility lightweight scooter. Keep in mind these key factors:
Weight Capacity: Select a scooter that can safely bear your weight and any extra weight from accessories or bags.
Battery Life: Choose a scooter with a battery life that meets your needs and allows you to travel to your desired destinations without worrying about running out of power.
Terrain: You may require a scooter with bigger wheels or more sophisticated suspension if you intend to use it on rugged or uneven ground. On the other hand, these features may be optional if you intend to use your scooter on smooth surfaces or indoors.
Maneuverability: You might require a scooter with smaller dimensions or a tighter turning radius if you intend to use it in cramped spaces or areas with obstacles.
Comfort: You can find the perfect fit for your body type and preferences with adjustable seats, armrests, and footrests.
Cost: Although lightweight scooters are generally less expensive than heavy-duty ones, their prices can still differ significantly. Ensure you select a scooter that fulfills your budget requirements without compromising on essential features and functionality.
7 Best Lightweight Mobility Scooters for Sale
If you're in the market for a lightweight mobility scooter, you'll find that there are plenty of options available. To help you narrow your choices, we've compiled a list of the seven best lightweight mobility scooters for sale – so you can find the perfect scooter for your needs and lifestyle.
1. Drive Spitfire Scout 3-Wheel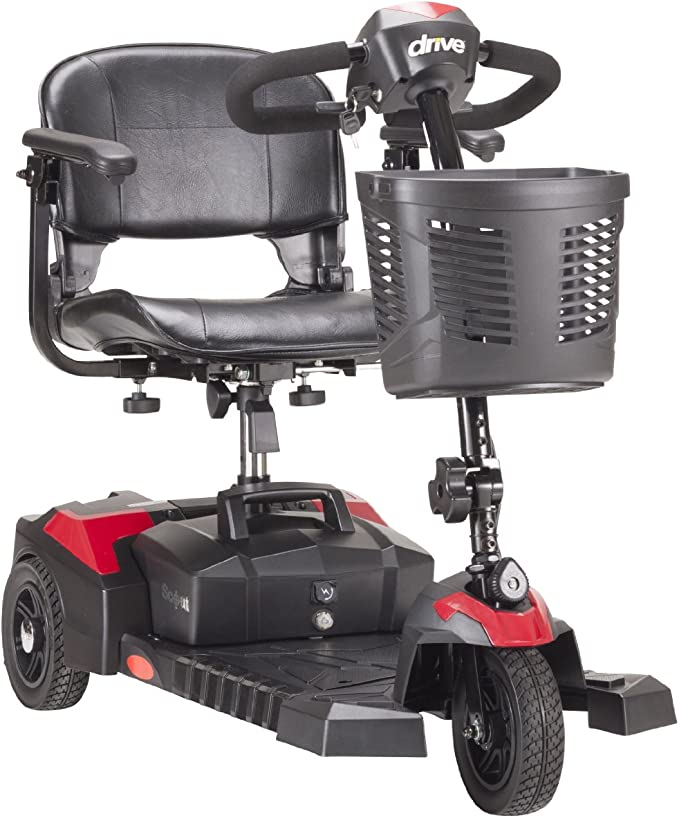 The Drive Spitfire Scout 3-Wheel scooter is an excellent option for those needing a lightweight and affordable scooter. Made from high-quality materials, it is well-designed and built to last. 
Here are some key features of this scooter:
Interchangeable color panels
Quick and easy disassembly
Padded and adjustable armrests
Height-adjustable swivel seat with fold-down backrest
Easily adjustable delta tiller
Ergonomic throttle control
Quick connect batteries
Large, plastic carry basket
Flat-free, non-marking tires, and anti-tip wheels
The Spitfire Scout is also travel-friendly, easy to disassemble, and portable. Despite being lightweight, it has a good weight capacity of 300 lbs and can reach a maximum speed of 4 miles per hour.
In addition, you can drive up to 9 miles per battery charge, and the flat-free tires ensure you won't get stranded due to a puncture.
Overall, the Drive Spitfire Scout 3-Wheel scooter is an excellent option for anyone looking for an affordable and reliable mobility lightweight scooter that is easy to maneuver and travel-friendly.
2. eWheels EW M35 4-wheel Mobility Scooter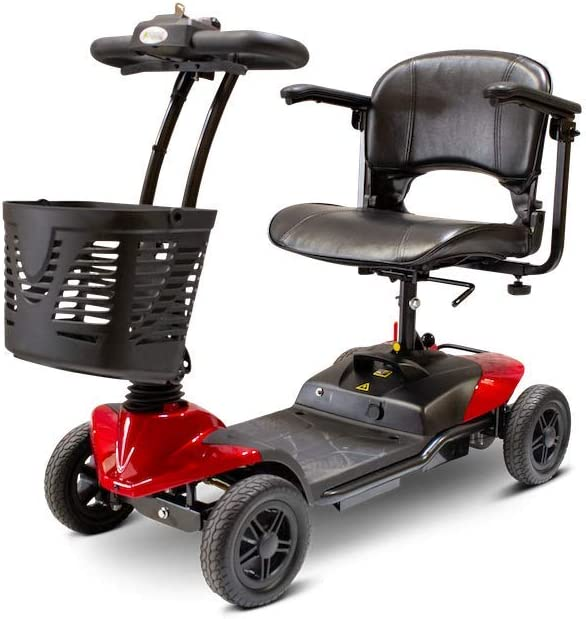 The eWheels M35 Lightweight 4-Wheel Mobility Scooter features a sharp turning radius and smooth drive. This scooter is perfect for indoor and outdoor use. 
The puncture-proof tires ensure stability and durability, while the long drive range of up to 9 miles and a top speed of 4 mph provide you with a comfortable and reliable ride.
One of the standout features of the eWheels M35 is its ergonomic and comfortable seating. The extra-large, leather cushion padded 17-inch wide seat and padded armrest provides excellent support for your back and hip joints, ensuring you are comfortable while you ride.
The eWheels M35 is designed for easy transportation and storage. It can be quickly disassembled into five lightweight pieces, including a folding tiller, removable seat, basket, rechargeable battery, and front and rear wheels.
The heaviest piece is only 25 lbs, making it light enough for most users to carry independently. In addition, it can easily fit in the trunk of an average-sized sedan, making it an excellent option for those who want a mobility scooter that is easy to take with them on the go.
Lightweight design (~88 pounds)
Long drive range (~9 miles)
Top speed of 4 mph
Easy-to-transport design with easy disassembly into five lightweight pieces
Puncture-proof tires
Easy-to-use control panel with variable speed dial, on/off switch, and battery indicator.
3. Golden Technologies Buzzaround Carry On Folding Scooter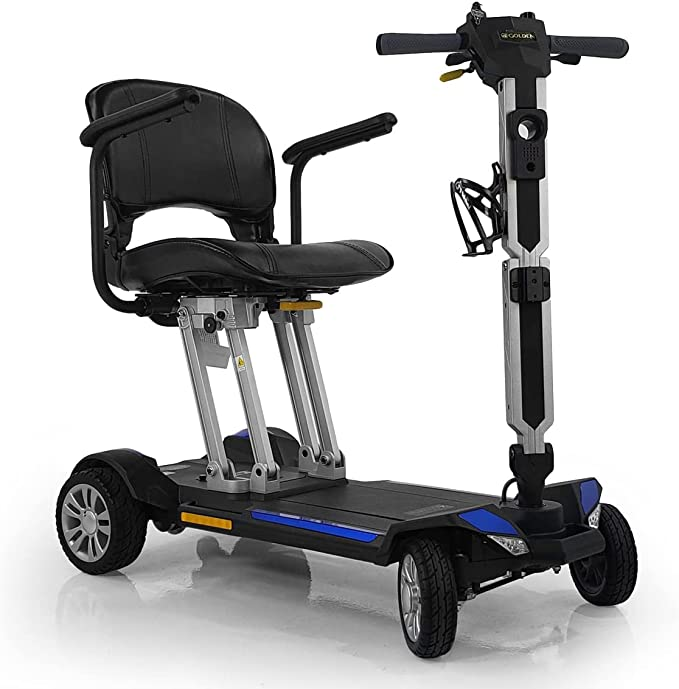 The Golden Technologies Buzzaround Carry-On Folding Scooter is a lightweight and foldable mobility scooter designed for comfort and ease of use.
Golden Technologies is a reliable and reputable manufacturer of mobility products for seniors, known for their quality and innovation.
It is an excellent option for anyone looking for a portable, easy-to-use scooter. Its lightweight design makes it easy to transport, and can be folded quickly and stored away without taking up too much space.
The Buzzaround stands out from other mobility scooters with its fold-flat design, allowing it to be taken almost anywhere without the usual size limitations. While it may not be the fastest scooter on the market, its driving range of up to 18 miles is impressive, and its weight capacity is also noteworthy.
Lithium-ion battery pack
Easy wireless disassembly
The heaviest piece is 47.5 lbs. (without seat and batteries)
Height, when folded, is only 12", making it easy to store
4-point carry handles for easy transportation
Bright LED headlamp for better visibility
USB charger and built-in cup holder
Weight capacity of 300 lbs
4. iLiving V8 Scooter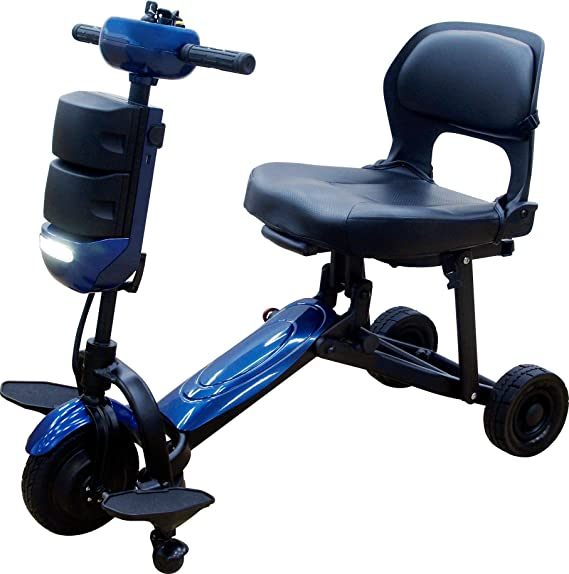 The iLiving V8 Electric Scooter is an excellent option if you're on the hunt for a lightweight and easy-to-use mobility scooter. 
Weighing only 40 pounds, it is one of the lightest scooters available, yet it is made from durable aircraft-grade aluminum, ensuring its robustness.
In addition, its unique two-step folding and the unfolding system makes it highly portable and convenient for travel, and it's even airline travel-approved.
One of the standout features of the iLiving V8 is its electronic stability control, which automatically reduces speed when turning to prevent tip-overs and potential injuries.
The bright LED light also ensures you can use the scooter safely in low-light conditions. In addition, the scooter's lithium-ion batteries provide an extended battery life, with a range of up to 15 miles on a single charge. Plus, with a built-in USB port, you can even charge your electronic devices while on the go.
Overall, the iLiving V8 Electric Scooter is an excellent option for anyone seeking a lightweight, portable, and reliable mobility scooter.
Ultra-lightweight design (~40 pounds)
Durable aircraft-grade aluminum
Electronic stability control
Extended battery life (~15 miles)
18.5"-wide cushioned seat
Attached multi-use basket
5. Pride GoGo Elite Traveler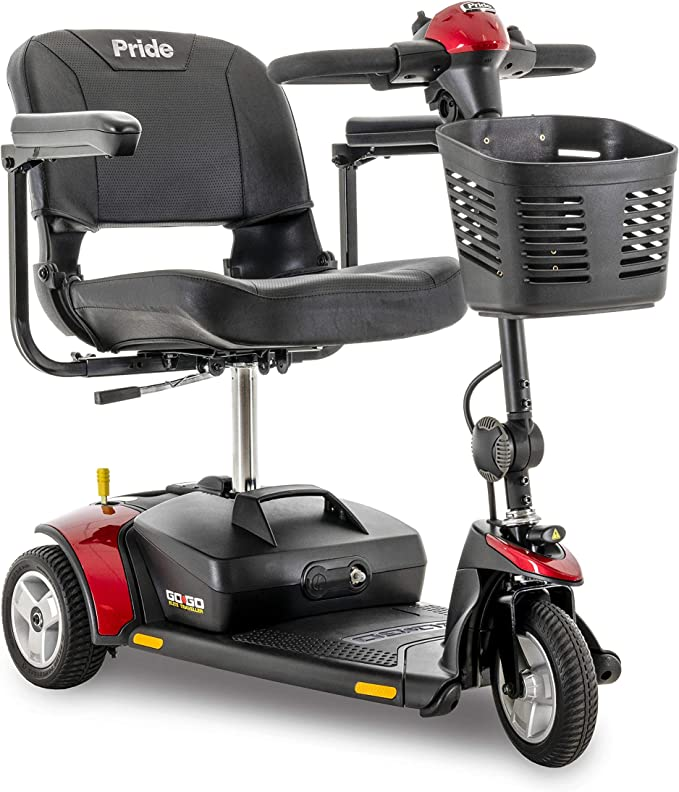 The Pride GoGo Elite Traveler is a lightweight and durable mobility scooter with a weight capacity of up to 300 lbs. Pride Mobility, a reputable brand in the mobility aid industry, manufactures it. 
With a maximum speed of 4 miles per hour and a driving range of up to 8.5 miles per battery charge, this scooter is a popular choice for users who require a reliable and easy-to-use mode of transportation.
Its aluminum construction makes it durable and lightweight, weighing only 76 lbs. This scooter is easy to disassemble, requires no heavy lifting, and can be stored in small spaces. The front-posted seat provides good balance, and steering is easy thanks to the tight turning radius.
Lightweight and durable aluminum construction
Weight capacity of up to 300 lbs
Easy to disassemble and store
Adjustable seat height and flip-back armrests
Front-posted seat and tight turning radius
Included basket for additional storage space
6. Pride iRide Scooter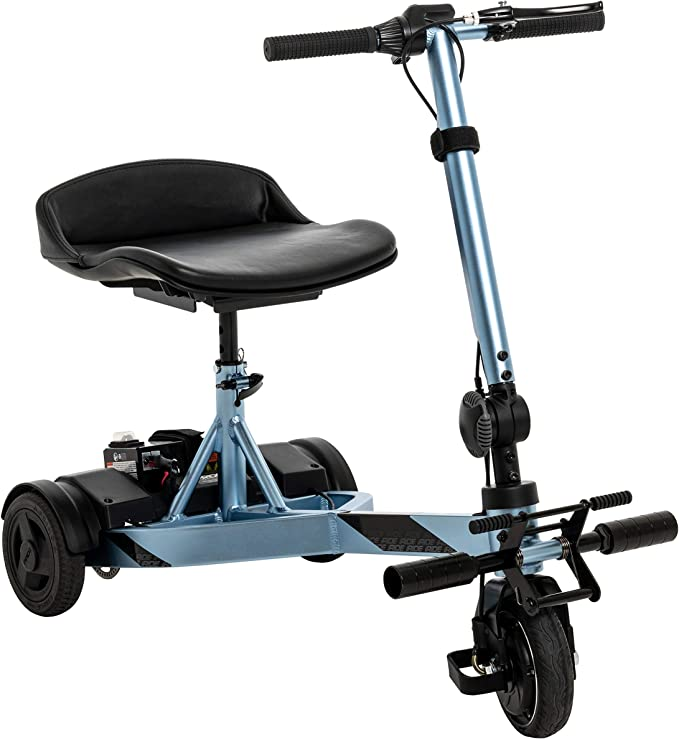 The Pride iRide Mobility Scooter is a lightweight, portable mobility solution that makes transportation easy for those needing assistance. 
The manufacturer, Pride Mobility, is a leading brand in the mobility industry and is known for producing high-quality scooters that are user-friendly and built to last.
One of the standout features of the Pride iRide is its lightweight design, weighing only 46.4 lbs, making it an ideal choice for individuals who need a scooter that they can easily maneuver and travel with.
In addition, its compact design allows it to fit in small spaces, and the removable seat and folding frame make it easy to pack and transport.
A powerful brushless motor powers the scooter and has a driving range of up to 12.7 miles per battery charge, with a maximum speed of 3.7 miles per hour.
Lightweight and portable design (~46.4 lbs)
A powerful brushless motor (~3.7 mph maximum speed)
It can travel up to 12.7 miles on a single battery charge
Adjustable seat height ranging from 18" to 20"
Available in three different colors: mango, blackberry, and raspberry
7. Tzora Titan Hummer XL Folding 4-Wheel Mobility Scooter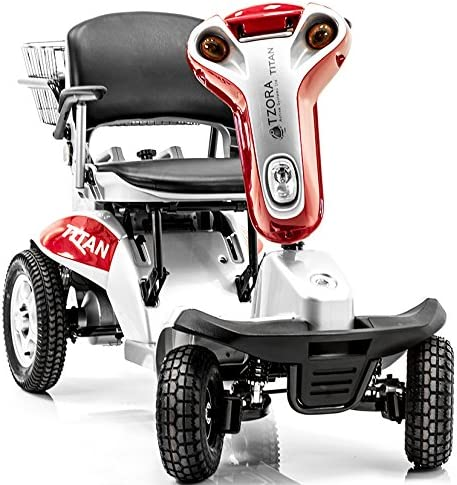 The Tzora Titan Hummer XL Folding 4-Wheel Mobility Scooter is a top-of-the-line option for those looking for a comfortable, versatile, and powerful mobility scooter.
This product is designed and manufactured by Tzora, a company that produces high-quality mobility scooters.
One of the most impressive features of the Tzora Titan Hummer XL Folding 4-Wheel Mobility Scooter is its ability to fold and store easily. You won't need a lift or carrier to transport this scooter, making it an ideal option for travel.
In addition, it has a 15.5-mile range per battery charge, allowing for extended use.
The four-point touch seat ensures maximum stability and comfort, and you can quickly drive on all types of terrain thanks to its full suspension and large 13-inch rear tires.
Folds and stores easily
15.5-mile range per battery charge
Full suspension and large 13-inch rear tires
Four-point touch seat
Complete lighting package
Easy-to-understand control panel
Ergonomic delta tiller
Tips for Buying Used Mobility Scooters
Obtaining a high-quality scooter that meets your needs can be cost-effective by purchasing a used mobility scooter. However, some key considerations must be remembered when purchasing a used mobility scooter.
Research the Seller: To ensure that you are dealing with a reputable and trustworthy seller, ask for references and look for reviews and ratings from past customers.
Inspect the Scooter: Before buying a pre-owned mobility scooter, thoroughly inspect it for any signs of damage or wear and tear. Ensure that the battery life, tires, and brakes are in good working condition.
Test Drive the Scooter: To ensure the scooter runs smoothly and meets your mobility needs, take it for a test drive. Determining whether the scooter is comfortable and easy to operate can be helpful.
Consider the Cost: It is important to consider the cost concerning its condition and features. Ensure you receive a reasonable price for the scooter based on age and usage.
Ask About Warranty and Repairs: Inquire with the seller about any available scooter warranty or repair options. If needed, access to repairs or replacements can help you feel more confident in your purchase.
Final Thoughts on Lightweight Mobility Scooters: Rolling into the Future
Individuals who require assistance with their mobility should consider lightweight mobility scooters a great option. They offer numerous benefits of improved independence, increased mobility, and greater ease of use.
However, it's crucial to consider weight capacity, battery life, terrain, manoeuvrability, comfort, and cost when selecting a lightweight mobility scooter. If you are considering buying a pre-owned mobility scooter, investigate the seller, examine the scooter, take it for a test drive, evaluate the cost, and inquire about warranty and repair alternatives.
By considering these factors, you can find the best lightweight mobility scooter for your unique needs and preferences. And for more hassle-free shopping, you can always check out SeniorsMobility.
Explore your options and find a lightweight mobility scooter to help you stay active and engaged in the world around you so mobility challenges don't hold you back!